Kia Ora and Hello Parents, Caregivers and Whanau
We missed seeing you yesterday at our Online Learning session!! Totally understand that there may be a good reason for missing this session. Hope you all are well!!
We would really appreciate if parents could please confirm whether your tamariki will be joining our E-Learning programme or not.
However, we will be doing the learning experience as listed below:
We are going to extend your interest in "Leaf painting" by collaborating it with "Spray painting". We need a couple of materials as mentioned:
Any old Toothbrush (if not, can also use dishwasher brush and you can wash it thoroughly after use)
Paints
Paper or Cardboard
Leaves (any shape, colour)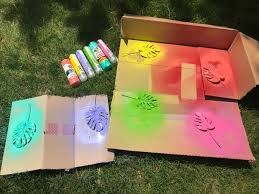 The pictures shown above might give you some idea about the final product.
Looking forward to seeing you all tomorrow at 3 pm!
Please do not hesitate to let us know should you have any ideas, suggestions, or feedback regarding these online sessions.
Please bring the children's creations to the Centre when we all return after the lock-down period. It will be helpful if we could also hear your child's feedback/voice about the learning experience, as well as your own!
Also do not forget to follow us on Facebook, EDUCA and check all the updates on our Website and Emails.
Mt Royal Early Learning Centre is OPEN for children of essential workers and for parents who are going to work in Alert Level 3.
Take care and stay safe
Regards
Kavita and her team at Mt Royal